Indonesian Shipyard Cuts Steel On New OPVs For TNI AL
Indonesian shipbuilder DRU Shipyards (PT Daya Radar Utama DRU) cut steel for two new Offshore Patrol Vessels (OPV) for the Indonesian Navy (TNI AL). The ceremony took place on 26 August 2021 in Lampung (island of Sumatra).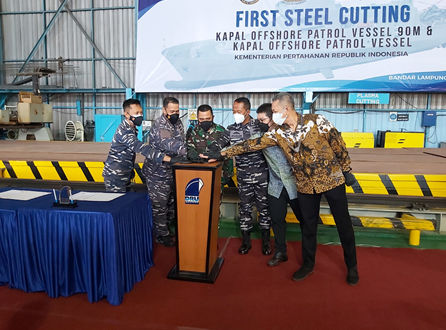 First steel cutting of 2 new OPVs for the Indonesian Navy.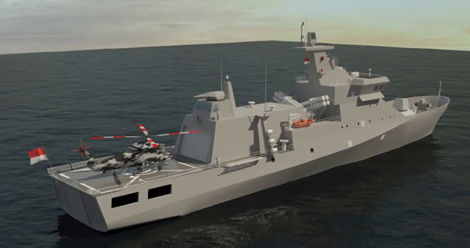 Design of the New OPV
According to an Indonesian MoD release, these OPVs are meant to strengthen Indonesian naval power and to fullfill a gap in the patrol boats segment.
"The construction of the '90-meter OPV' and 'OPV' is a form of promoting the national defense industry to increase the capacity and expertise in the construction of warships in the future, as well as encourage the recovery of the national economy."
Head of the Defense Facilities Agency (Kabaranahan), Kemhan Marsda TNI Yusuf Jauhari.
This still needs to be confirmed formally, but according to our information, both OPVs are set to have a length of 90 meters, a width of 13.5 meters and will be powered by four 7,280 KW diesel engines. Both should be able to reach a maximum speed of 28 knots. However one is expected to feature equipment to accommodate a helicopter (helideck and hangar) while the other OPV will lack such facilities.
DRU Shipyard released a design video of the '90-meter OPV'. Regarding the weapons, she seems to be equipped with a Rheinmetall Millennium Gun 35mm caliber mounted on the hangar, 2×4 anti-ship missile (likely MM40 Exocet) launchers on the amidship and an OTO Melara 76 mm Super Rapid Gun forward.
For VBSS (Visit, Board, Search and Seizure) purposes, there are two RHIB (rigid hull inflatable boat) launch loading ramps located at the stern.