World's first methanol-powered container ship begins maiden voyage
A.P. Moller – Maersk announced that the world's first green methanol container vessel left from Ulsan, South Korea, on its maiden voyage to Copenhagen, Denmark for its official name giving ceremony.
On July 17th, the shipping industry achieved a significant milestone in its decarbonization efforts as the first-ever containership powered by green methanol embarked on its inaugural voyage. This vessel, set to be officially named Laura Maersk in September, commenced its journey from Ulsan, South Korea, with plans to cover approximately 11,000 nautical miles before reaching Copenhagen, Denmark, where it will enter service in the Baltic region.
Notably, this departure followed closely after OCI Fuels announced the successful completion of the first green methanol bunkering operation. The containership was fueled with OCI HyFuels, which is ISCC-certified green methanol. Maersk collaborated with OCI to establish a supply of green methanol along the ship's route to Europe. Odfjell SE, a transportation and storage partner, played a crucial role in setting up the green methanol supply in Ulsan for the bunkering operation.
The voyage will include methanol refueling stops in Singapore, Egypt, and Rotterdam on the way to Copenhagen. During the journey, the ship is making approximately 9 knots and is expected to arrive in Shanghai, China, by July 19th.
OCI Global emphasized that this voyage serves as a catalyst for future green methanol bunkering operations and positions OCI as a pioneer in commercial green methanol bunkering at a global scale.
This groundbreaking vessel, considered a trailblazer in the era of methanol-fueled containerships, was first announced by Maersk in February 2021 and ordered from Hyundai Mipo Dockyard in South Korea in July 2021. The ship measures 564 feet in length with a 105-foot beam and has a nominal capacity of 2,100 TEU (including 400 reefer plugs). It features a MAN dual-fuel engine designed to reach a top speed of 17.4 knots.
Maersk's preparation for this innovative ship included extensive training for both onboard crew and shoreside personnel to handle methanol fuel operations. The vessel is expected to provide essential experience ahead of Maersk's introduction of larger methanol-fueled ocean-going containerships in 2024.
Maersk has a total of 24 methanol-fueled containerships on order, and its move has inspired other major carriers like COSCO, CMA CGM, and Evergreen, as well as smaller feeder carriers such as X-Press Feeders, to order methanol-fueled vessels. Over the next five years, more than 100 containerships capable of operating on methanol as their primary fuel are scheduled to enter service, signaling a significant shift toward greener shipping practices.
"With this vessel, we have taken an important step in our journey towards net zero emissions. Our hope is to show the way – not only for Maersk but for the entire logistics industry."", said Vincent Clerc, CEO, A.P. Moller – Maersk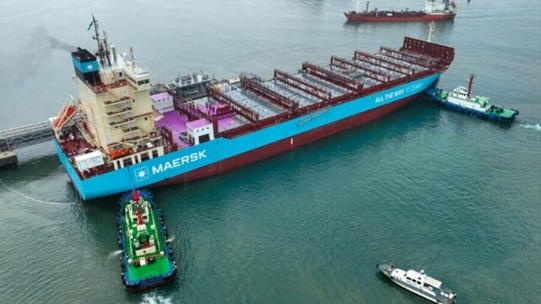 LINK: https://maritime-executive.com/article/first-green-methanol-fueled-boxship-starts-maiden-voyage-for-maersk